Growth in flexible working set to prove attractive to new business at Franchise Expo Frankfurt
The huge franchise opportunities presented by the rapid growth of the flexible-office market was one of the items on the agenda at a major franchising event in Germany recently.
Franchise Expo Frankfurt 2019, which took place at the city's Exhibition Centre from 14th to 16th November, included global flexible-office giant IWG among a prestigious list of companies taking part. Germany's main franchise show has gone from strength to strength in recent years, expanding from 110 exhibitors last year to 134 and counting this year.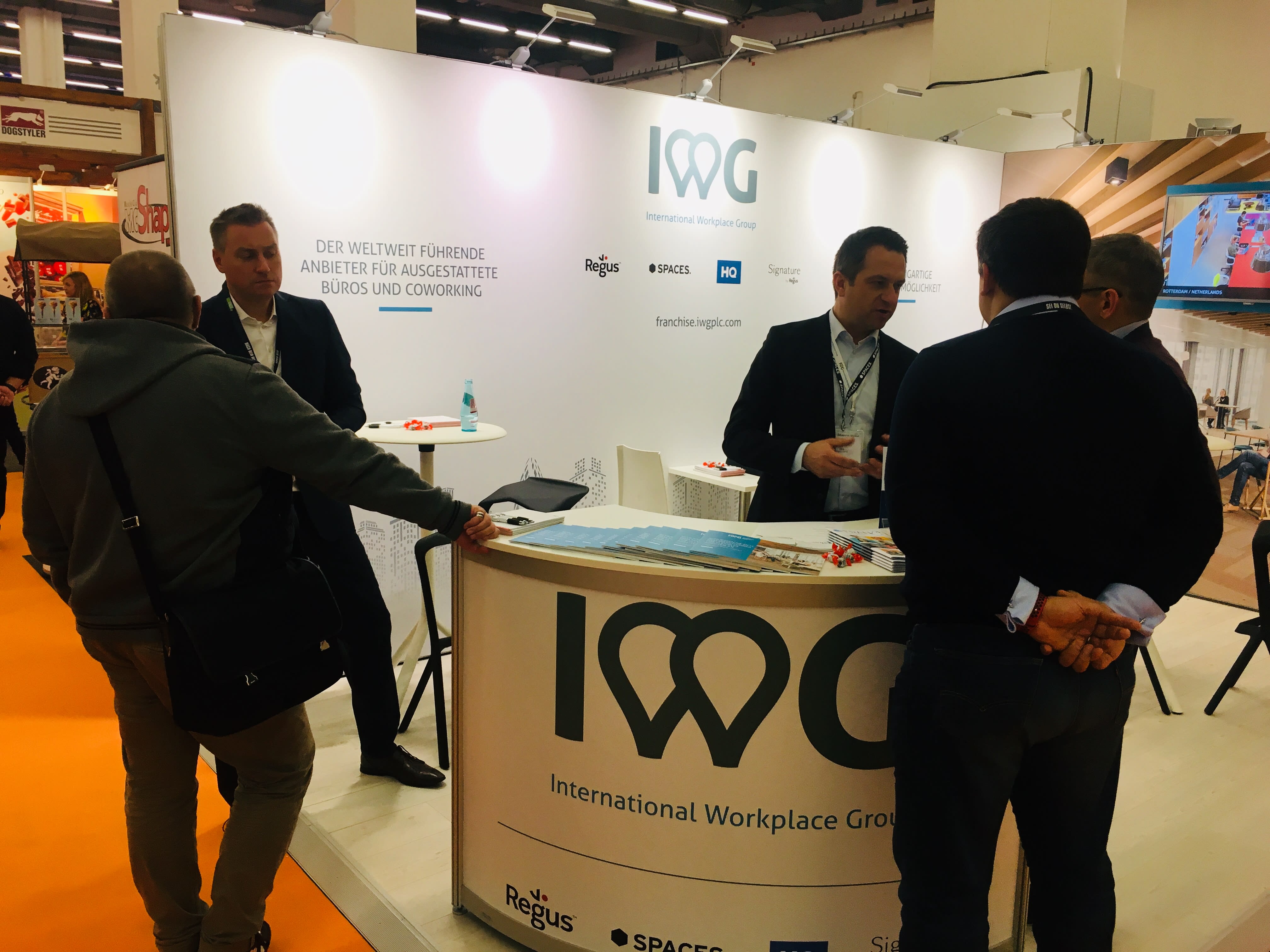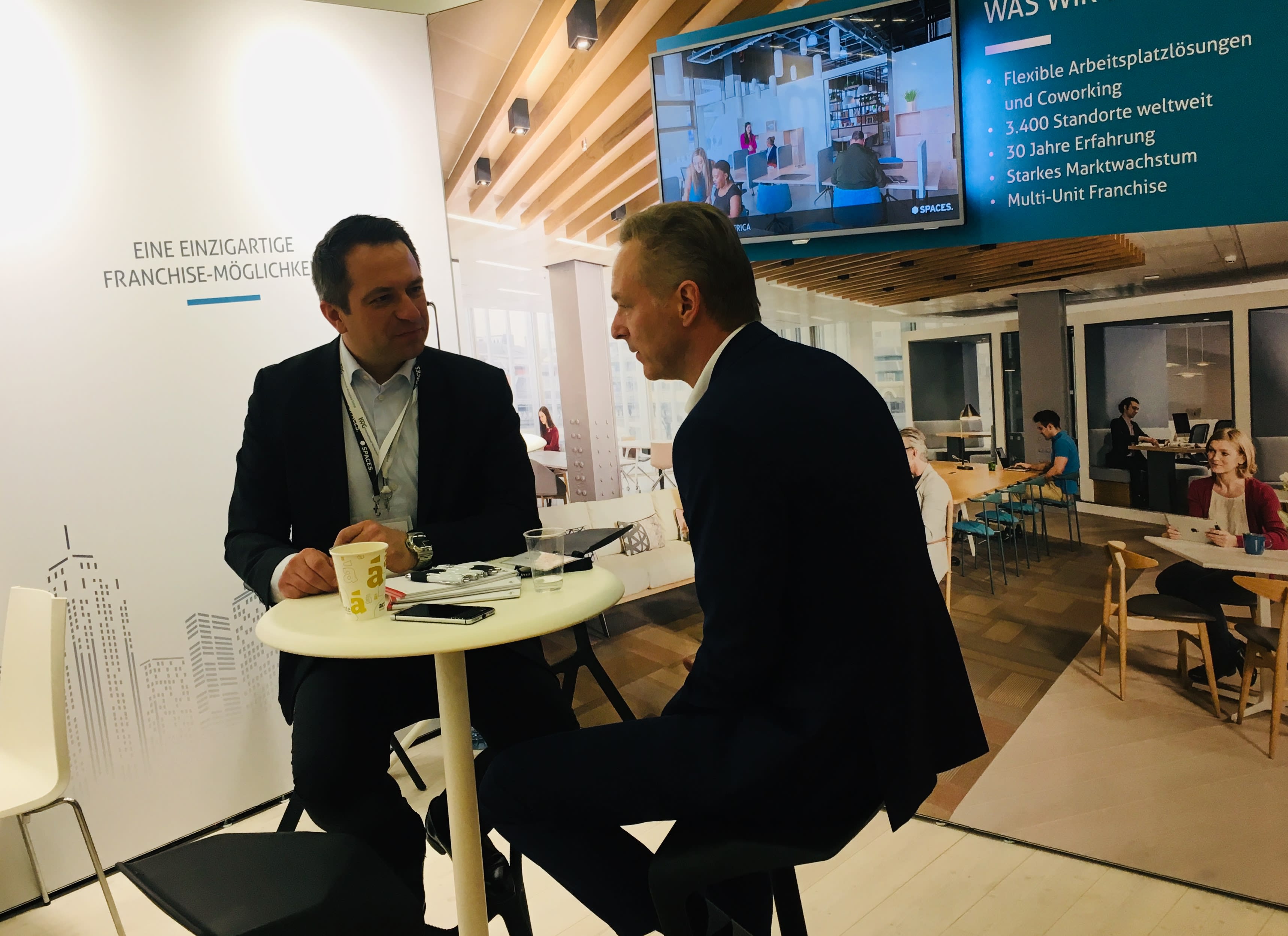 Marco Wild, Franchise Director for Germany at IWG, says the company was among some of the biggest players in the industry to be represented there, with his team relishing the opportunity to get involved. "The expo went well for us: more than 150 national and international franchise brands were participating and more than 3,000 visitors had a great possibility to get in touch with IWG," he reports. "Our stand was busy with prospects who wanted to learn about our company, our products and our franchise proposal –we expect to see some of them becoming a franchise partner in Germany fairly soon."
The popularity of franchising has grown in Germany in recent years, and is now a major part of the country's economy. Sales generated by the German franchising industry grew by 9.4% in 2018, with around 9,993 franchises now operating.
IWG's franchise expansion has been a major success story in Germany, with the company focussing specifically on attractive, medium-sized cities. As more and more firms look to expand their operations outside the traditional business centres, a franchise in Frankfurt or Hamburg is a great business opportunity. Officially launched just over a year ago, IWG's franchise operation has signed a deal for eight centres, with one of them already up and running in the Bavarian city of Augsburg, one of the country's oldest.
Wild says the team expect to sign a total of between 25 and 30 before the end of the year. "Our franchise model always includes a development plan for several centres in a defined area, so our typical target groups are existing franchisees from other brands," he says. "These are investors that want to diversify – real-estate owners but also entrepreneurs with according financial and organisational resources." He adds: "In order to underline our ambition as a quality franchise concept, we [have been a] very active member of the German franchise association from the beginning."
The flexible-workspace industry has gone through boom times in recent years. The industry is estimated to be growing by 24% a year, with 50% of workers set to be working remotely for most of the week by 2020. By 2022, around 1.87bn people will be working flexibly, with global real-estate giant Jones Lang LaSalle (JLL) estimating that up to 30% of corporate real-estate could be flexible workspace by 2030.
So it comes as no surprise, perhaps, that the appetite among franchisees to get in on this rapidly expanding industry is strong. Indeed, Wild's speech at the event discussed some of the opportunities being presented in the booming industry to local industry leaders and prospective clients. "I spoke about the growing market for coworking and flexible-office solutions, and how franchise partners can benefit with our unparalleled franchise model," he says.
An event spokesman calls the showcase – which is also attracting global brand giants such as McDonald's – a prime opportunity for entrepreneurs looking to explore their options outside of traditional franchises, and others who want to start a new venture. "It's the place to be for people who want to start their own business, who are interested in franchising and for companies which want to expand via franchising," he says. "Here you meet over 100 exhibitors from Germany, the US and other countries, established and new franchise brands, at all levels of investment."
Discover more about franchising with IWG